"HANGRY BIRDS  Bizarre moment massive red-tailed hawk kills a pigeon in downtown New York and eats it sat on top of a car"
Though perhaps not one of The Sun's most memorable of headlines (such as Freddie Starr ate my hamster, Zip Me Up Before You Go Go, Gotcha!, Paddy Pantsdown, or Who Told That Chopper Whopper? ); the article goes on to say:
"A SHOCKING video captures the stomach-churning moment a savage bird of prey killed and ate a pigeon in New York City. While perched on top of a black car, the red-tailed hawk tore apart its victim's carcass on Sunday.After staring straight into the camera lens of Ernesto Robles as if to warn him off, the bird of prey continued to hungrily gulp down its meal."
There are many Birds of Prey in our towns and cities. It shouldn't be surprising – there is plenty of flying food, rats too thanks to our slovenly ways – but seeing a Bird of Prey is always an exciting moment.  Owls, too, are coming into the cities to take advantage of the food sources and the wooded city parks. While they're less likely to be seen, the omnipresence of nighttime streetlights could possibly aid in the sighting of one.
"It all happens in a blur: the dive, the hit, the feathers flying everywhere. And off flies another friendly urban raptor, dead pigeon in tow"; writes Stacey M. Hollis, continuing:
"Walking the city sidewalks, we often notice the ubiquitous pigeon underfoot and the occasional rat scuttling across the sidewalk, but rather than looking at them as pests, how about thinking of them as prey? Raptors, which include hawks, owls, and falcons, are attracted to cities because they can subsist on the numerous birds and rodents that exist there. To spot these birds of prey of the city, one needs to be quick. Knowing how to identify bird behavior can help, such as noting when pigeons, gulls, and starlings suddenly scatter and fly in erratic formations. By keeping your eyes to the sky when this happens, you may catch a fleeting glimpse of a red-shouldered hawk, a cooper's hawk, or a peregrine falcon. And the pure luck of sighting a raptor on its kill is something to see –- morbid, yes –- as it plucks the feathers off of its unlucky catch.
Feathered predators are not just a novelty, their very presence can be telling of the health of the urban habitat they occupy. Being apex predators, which exist at the top of the food chain, can help indicate that even a business park could be a place of biodiversity. Raptors, simply put, add a dose of wild to our cities, reminding us that even in the middle of a city, we're not the only ones on this planet."
But the record breaker? It is of course the Peregrine Falcon:The Peregrine Falcon is the world's fastest animal; it can reach speeds of over 200 mph during dives.
The peregrine is a large and powerful falcon. It has long, broad, pointed wings and a relatively short tail. It is blue-grey above, with a blackish top of the head and an obvious black 'moustache' that contrasts with its white face. Its breast is finely spotted. It is swift and agile in flight, chasing prey.  Peregrine numbers were down in the 1960s due to human persecution and the impact of pesticides in the food chain. Improved legislation and protection has helped the birds to recover and they have now expanded into many urban areas.
From the guardian, an article by Patrick Barkham says:
In rural Britain, peregrines are still illegally shot or poisoned. Conservationists believe that these birds of prey are illegally killed because they threaten the profitability of lucrative grouse shoots.
"Any peregrine nesting in an urban area is less likely to be persecuted," says Lindo.
The naturalist and "urban birder" David Lindo, who grew up in London, and is part of the URBAN BIRD/ DIVERSIFLY project (there will be a  free podcast with him, available on the Fair Acre Press website from January 2018) remembers having to travel to the coast as a boy to see peregrines. He first saw urban peregrines as a teenager, when he visited New York. "Now, virtually every city I visit I expect to see a peregrine," he says. As peregrine numbers grew in London, he set up the Tower 42 bird study group to monitor the migration of birds of prey. "From the tower, you can see upwards of six peregrine territories across London," he says.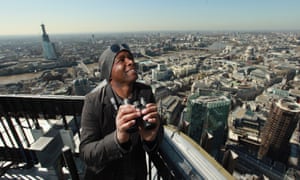 Lindo's motto is "look up". Seven years ago, he turned up at Tate Modern with a large, empty picture frame, and set up a telescope. "I called my 'picture' Peregrinations. I had a queue of people looking through the telescope at peregrines. The kids were going, 'Oh wow, that's amazing,' and the adults were saying, 'Are they just here to cull the pigeons?' They are wild peregrines. The most amazing predator on the planet. They are a symbol of power and speed, but also a symbol of urban birding. You can see some amazing things in the heart of the concrete jungle."
Peregrines are the fastest member of the animal kingdom, are thriving in London. There were three pairs in London at the turn of the century; now there are 30, probably the second-highest density of peregrines anywhere in the world – after New York. The peregrine, once considered a bird of lonely rocky cliffs, almost fell extinct in Britain in the last century. Now it has reinvented itself as an urban creature. Pairs nest in many cities and towns, including Manchester, Derby, Coventry, Chichester, Ipswich and Norwich.
There is a wonderful essay by Kathleen Jamie in her book "Findings" – called Peregrines, Ospreys, Cranes which I love – it made me realise that its the quality of your observation, not the time you spend, that is important – she watches peregrines inbetween the washing up, and collecting her kids from school. Here is a short extract:
I watched her yesterday. She was upright on the edge of her favoured ledge with her back to the world, the long brown wings folded down to her tail. She was calling and calling. People are beginning to talk – is that a bird? A lost lamb? Someone said he thought it was an injured animal at a roadside, a hare or a fox. But, though half the town can hear it, the male peregrine must know this sound is intended for him alone. How it must nail through his brain. You. You. He was perched on a lichen-spotted lip of rock some feet away, and had also turned his back. She is bigger, and more brown. His back was the colour of slate roofs after rain. What you see when they swivel their heads round is the white of their cheeks.
Here is the middle part of a poem called Peregrine Falcon, by Gillian Clarke (another person involved in this project, who we will also be recording for a podcast.) The whole of the poem can be read here, on her website:
Her house is air. She comes downstairs
on a turn of wind.
This is her table.
She is arrow.
At two miles a minute
the pigeon bursts like a city.
Gian and I once watched a Peregrine eating half a woodpigeon, 6 foot away, through our downstairs window – its beak tore off tiny mouthfuls, while it held the carcass still; it constantly looked up and around checking for other birds who might attack and steal its kill. It did not look at us. After minutes passing, it took off with its meal tight in its talons.
Here are some images I have found online:
And here are a few links with some more information :
RSPB on Peregrine Falcons
Salisbury Cathedral on their 2017 peregrine nest
Wildlife in the City – on Peregrine falcons
Nadia x
   This Blog is part of a series of Blogs that are part of the Fair Acre Press project –  DIVERSIFLY: everyday encounters with the birds of Britain's towns and cities. For more details on the project go here